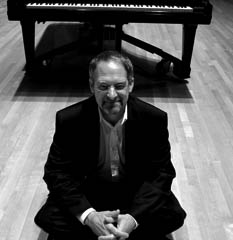 MARTIN PERRY
PIANO
---
"The combination of program and pianist was a double fulfillment: The performances were superb, and the music was fascinating... Perry is an absolutely first-rate pianist."

- William Glackin,
The Sacramento Bee
Of Perry's performance of Gershwin's Rhapsody in Blue, Christopher Hyde, of The Portland Press Herald writes: "Perry's technique is astounding. More important, it was placed in service to dramatic emotional contrasts between the solo cadenzas and the broad sweep of melodies in which the orchestra joins."
---
Martin Perry is a pianist dedicated to discovering the expressive heart of the material he performs. From works by the great American composers Ives, Carter and Bernstein on modern piano to the early romantics Mendelssohn, Chopin and Schumann on fortepiano, his hallmarks are a delicate touch, deep emotional connection and commanding technical precision. In his approach to performance practice and concert presentation, he is traveling the road less traveled, bringing a fresh approach to both the classics and the underplayed twentieth-century canon.
With an orchestral debut at the age of 15 in his hometown of Sacramento, California,Martin went on to study with renowned pedagogues Patricia Taylor Lee and Thomas Schumacher, graduating from the Juilliard School under the tutelage of Adele Marcus, herself a pupil of the legendary Russian pianist Josef Lhévinne. His competitions include the William Kapell and the Dranoff International Two Piano Competition, where he and colleague Kathryn Lewis were awarded the bronze medal.
After a Carnegie Hall debut, Martin Perry embarked on a busy career touring the U.S. several times, appearing in recent seasons with the Arkansas Symphony, Boston Pops, Moscow Symphony, Baltic Philharmonic and the Portland Symphony Orchestra. Recent collaborations include performances with The Cassatt Quartet and The Daponte Quartet. His performance of Leonard Bernstein's The Age of Anxiety with the Portland Symphony this season was called "simply astounding" by music critic Christopher Hyde of the Portland Press Herald.
Martin also brings a love of the magical, mystical and extra-musical world to his programming. His repertoire includes all the major works of Charles Griffes and Alan Hovhaness (with whom he shares an Armenian-American heritage) as well as avantgarde works such as De Profundis by Frederic Rzewski. At home in many genres, Martin has recorded the songs of Stephen Sondheim for RCA, and premiered piano works of Vivian Fine and William Bolcom.
KAREN BEACHAM
CLARINET
---
"The high point of the afternoon was a delicate and virtually flawless rendition of the Mozart Clarinet Concerto in A Major, (K. 622) by clarinetist Karen Beacham. Her scales and arpeggios were like liquid gold, and the descents into the lower registers, new in Mozart's time, totally ravishing."

- Christopher Hyde,
The Portland Press Herald
---
Karen Beacham has held the position of Principal Clarinet with the Mexico City Philharmonic, Orquesta Sinfónica de Minería in Mexico City, and the Tulsa Philharmonic Orchestra. She has appeared as soloist with Mel Tormé and the Tulsa Philharmonic Orchestra, the Maine Chamber Ensemble, Colby Symphony Orchestra, and the University of Maine at Farmington Orchestra. Karen has participated in many festivals, including the Kneisel Hall Chamber Music Festival, Sebago–Long Lake Region Chamber Music Festival, Aspen Music Festival, New College Music Festival, and Norfolk Chamber Music Festival/Yale School of Music.
An active performer, Ms. Beacham is clarinetist and Eb clarinetist with the internationally touring New Sousa Band under the direction of Keith Brion. She is clarinetist/bass clarinetist with the Sunriver Festival Chamber Orchestra in Sunriver, Oregon, and serves as principal clarinet with the Maine Chamber Ensemble, Maine State Ballet Orchestra, and Portland Ballet Orchestra. In addition, she performs with the Portland Symphony Orchestra. Ms. Beacham is a founding member of the Nordica Trio, an ensemble for clarinet, violin/viola, and piano and has been a guest artist with the Portland and Daponte String Quartets.
Dedicated to education, Karen's teaching appointments have included both college and public school. She is currently instrumental music instructor and conductor at Maine School Administrative District No. 9. Karen was Applied Music Associate in Clarinet at Colby College for 11 years and, continuing that association, traveled to India last January as teacher and performer in a collaborative program between Colby College and the Gandhi Ashram School in Kalimpong, West Bengal. Karen has served as conductor of the Concert Band at the University of Maine at Farmington and is a faculty member at the Southern Maine Music Academy at the University of Southern Maine.
Karen Beacham received a Bachelor of Music from the Philadelphia College of the Performing Arts where she studied with Donald Montanaro, assistant Principal and Eb clarinetist of the Philadelphia Orchestra. While there, she performed with the PCPA Orchestra as a winner of the Helen P. Neuman Solo Competition. Karen received her Master of Music Degree at the New England Conservatory of Music as a student of Harold Wright, Principal Clarinetist with the Boston Symphony Orchestra. Her conducting studies have been with Dr. Peter Martin at the University of Southern Maine and Kenneth Kiesler at the Conductor's Retreat at Medomak in Washington, Maine.
GRAYBERT BEACHAM
VIOLIN and VIOLA
---
In reference to a performance of the adagio movement from the Sonata in D minor by Johannes Brahms: "...and Beacham settled into the melancholy grandeur of its adagio, an aria full of luscious double stops and an almost unbearable sense of pathos. This sonata demanded consummate technique and control from both violinist and pianist, and they delivered handsomely."

- Christopher Hyde,
The Portland Press Herald
---
Graybert Beacham has been an active orchestral and chamber music performer throughout the United States and Mexico. He holds bachelor's and master's degrees in performance from the Cleveland Institute of Music, where he was the recipient of the Dr. Jerome Gross Prize in Violin.
Major teachers include David Cerone, Bernhard Goldschmidt, and Emanuel Borok. His conducting studies have been with Kenneth Kiesler at the Conductors Retreat at Medomak, Lawrence Golan, and Max Bragado-Darman. He studied chamber music with members of the LaSalle String Quartet at the Cincinnati College-Conservatory of Music. As a result of national auditions, he participated in the Cleveland Chamber Music Seminar, receiving coaching from members of the Guarneri String Quartet. Recorded performances have been broadcast over public radio stations across the United States and Mexico. His orchestral affiliations have included the Mexico City Philharmonic, Tulsa Philharmonic, Orquesta Sinfónica de Minería, and Kansas City Philharmonic. He has served as Acting Concertmaster of the Vermont Symphony Orchestra under the direction of Jaime Laredo, and as Concertmaster and soloist for the Cascade Festival of Music in Oregon.
As a violist, he has been a guest artist with the Portland String Quartet and served as Principal Violist with Opera Boston (formerly the Boston Academy of Music). Faculty positions have included the Cleveland Institute of Music Preparatory Department, Oklahoma Summer Arts Institute, Sunriver Institute for Strings, Music Festival of Arkansas, Bay Chamber Concerts Next Generation Program, Maine ASTA Summer String Conference, the New England Suzuki Institute, and the Southern Maine String Academy. He has held the position of conductor with the University of Maine at Farmington Community Orchestra, has guest conducted the Midcoast Symphony Orchestra, and is an active conductor/clinician at various educational festivals in Maine and Massachusetts.
From 1993 until 2002, Mr. Beacham was a member of the applied faculty at the University of Southern Maine School of Music, teaching violin, viola, and chamber music. Currently, he is Applied Music Associate in Violin and Viola at Colby College, where he also teaches chamber music and serves as Concertmaster for the Colby Symphony Orchestra. He maintains an active performing schedule with the Nordica Trio (clarinet, piano, and violin/viola), and has completed all the coursework in the doctoral program at Boston University School of Music toward a DMA in Music Education. In addition, Mr. Beacham is a substitute player with the Portland Symphony, having performed as Concertmaster, Principal Second Violin, Principal Viola, and soloist. He has recorded for Albany Records.